From 1949 until his retirement in 1963 Pascoal stayed on in Nairobi as he was no longer subject to any further transfer.
In his new position in the B scale of Establishment Officer, he was frequently called upon to act for officers in the Asst. Secretary Grade - a rare opportunity indeed for an Asian during the colonial period!
Initially, until suitable Government quarters in keeping with his new position were allotted, the family spent some weeks with distant relatives. The Carrasco cousins occupied a spacious flat in the Parklands area where a number of prosperous Goan families had settled. Lawrence and Mary Carrasco had five children: Zeff, Abel, David, Cella and Bessie. Zeff was already studying pharmacy in England, and Abel was due to leave shortly to study medicine there. Young Sanoo was filled with admiration for their achievements and was inspired to emulate their example.
In the post-war clamour for independence from imperial control (which included the Mau-Mau insurrection, some measures were taken to placate local agitation in the British colonies. It was during this phase that facilities by way of bursaries and scholarships for higher education in England were being offered by the British Commonwealth to deserving young students in the colonies. Wisely, a number of Goans availed themselves of this opportunity so that their children's future prospects would be even better than their own.
The de Mellos were eventually moved to two- room Government quarters off Park Road. It was most pleasing to Pascoal as his beloved elder sister Severina and her family lived in the Railway quarters just across the road. Her husband Andre held a senior position in the Stores Department of Kenya Railways. The Mendoncas had four children: Annie, Alexinho (Alu), Pius and Teresa. With constant visits referred to as "going across" a strong relationship developed between the two families.
Later, Pascoal took great pride in the outstanding field hockey prowess displayed by his nephew Alu Mendonca. This was merited because starting from the tender age of 21, when he represented Kenya at the Nairobi City Stadium, Alu went on to represent Kenya in four successive Olympics: Melbourne (1956), Rome (1960), Tokyo (1964) and Mexico (1968).
Alu Mendonca was also appointed Assistant Coach to the Kenya National Squad for the Munich Olympic Games in 1972 and National Coach for the Montreal Games in 1976.
Another source of pride for Pascoal were the achievements of his other nephew, Pius and his grand niece Rose.
Pius, today, is a Specialist medical practitioner in Germany. His daughter, Malaika, has followed in his footsteps and has graduated from medical school.
Dr. Rose is a renowned lawyer in the UK specialising in European Community affairs and legal consultant to the Commonwealth Office in London.
While at Park Road the de Mellos attended services at St. Francis Xavier's church at Parklands. Erected in 1936, it is popularly known as the "Goan church" because most of its parishioners were Goans who resided in the vicinity and, down the decades, freely donated to it.
Sanoo and Tim had already started attending the Dr. Ribeiro, Goan School in Nairobi. Far back in 1927, under the guiding spirit of Dr. A.C.L. de Sousa, the Goan Overseas Association came into being. In view of the need for a good school for Goan children, this social organisation gave first priority to the creation of what came to be known as the Dr. Ribeiro Goan School. It took the name of its chief donor - the philanthropic Goan pioneer, Dr. Rozendo Ribeiro.
On 21st December 1951 Pascoal and Esmeralda were blessed with the arrival of their fourth son, Stanislaus. He was born in the Ngara Maternity Home. With the arrival of this new-comer, the place on Park Road was much too small; so the family moved to a three-room Government quarter at Ngara. Happily, at this juncture Pascoal was actually entitled to larger quarters. His responsibilities and influence had increased considerably.
Pascoal used this influence now and then to help recruit deserving Goan young men into the Civil Service. One of these was his brother-in-law, the husband of Esmeralda's younger sister, Rose, whom he specially invited to Kenya.
He also invited Esmeralda's younger sister and brother, Bennie and Manuel, to Kenya. They came to live with the de Mello family of six. Bennie was a great help with the youngest boy, enabling her sister to take care of the three older boys who were attending school. They were one big happy family.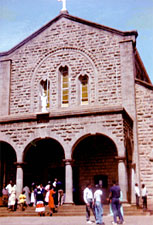 St. Francis Xavier Church, Nairobi