In 1972 Pascoal and Esmeralda boarded S.S. "Karanja" at Mombasa. They brought with them whatever could be transported from their home of the last eighteen years. The two of them returned to their empty old house in Anjuna.
Esmeralda's sister, Bennie, came specially to welcome them.
Pascoal was most eager to please Esmeralda. He wanted her to feel she had not really missed out by coming to make Goa her home. So he undertook expensive and elaborate renovations for the house in de Mello vaddo. He utilised to advantage much of the proceeds from the sale of their Nairobi home towards beautifying and modernising the new home. As always, both put their heads together to chalk out their plans. And before long the task was accomplished to their satisfaction.
Even basic amenities such as electricity, running pipe water, proper drainage and sewage, had only been introduced to the village some time after Liberation in 1961. Change was slow in Goa; but Pascoal, with his usual efficiency and determination attained his target in due course. Finally Esmeralda was content to have the facilities she had enjoyed in Kenya.
After settling in, they both felt free to go and visit the boys. To date they have made four trips to Canada and Europe.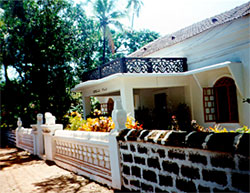 DEMELLO VILLA, ANJUNA
Canada
Joe ,the eldest, had already established himself in the medical profession in Toronto. With his special interest in Sclerotherapy or the non-surgical treatment of varicose and spider veins, and eye examinations, this community-based family physician played a pivotal role in setting up the Lakeshore Village Walk-in Medical Clinic. This has been acknowledged by the local community as welcome relief: The clinic provides convenient, competent and prompt health care to residents in an area that was formerly depressed and neglected. Dr. Joe has also been the driving force behind the construction of a new medical centre in the burgeoning Lakeshore-Kipling area of Toronto's West End. This medical centre is now the showpiece of the local medical community and features state of the art diagnostic and treatment facilities. It also has a slate of visiting specialists. To ensure that local physicians are kept abreast with current advances in medicine, he has also initiated a series of Continuing Medical Education seminars. His medical colleagues have nominated him for a Practice of Excellence Award recognizing his outstanding achievements in the medical field.
After graduating in Business Management from Luton Polytechnic in England, Raymond - the third boy - also went over to Canada at the invitation of his eldest brother and secured a position in Materials Management at Sharp Electronics in Toronto.
In 1972 Stan went to Canada and took up his studies at Dalhousie University in Halifax, Nova Scotia. He obtained a Master's Degree in Social Work and Public Administration and became a community college instructor in Vancouver and a lecturer at the University of Seattle in Washington state - specializing in aboriginal affairs.
In June 1975, after spending ten years in England, Tim too decided to emigrate to Canada with his wife and infant son. He had a good position in Rolls Royce, but strong family ties probably tugged at him. His three brothers were already settled in Canada. He was recruited by Atomic Energy of Canada Ltd. from London. He is located in the Toronto area, where he has been a Manager. He is active on the Internet with his newly formed company, GOACOM. Two other partners have joined him in this venture. He is in daily contact with Goa and other parts of the world on the Internet.
So, with all their four sons residing comfortably in Canada, it became very convenient for Pascoal and Esmeralda to visit the country and spend time with each one in his home, by turn.
Grandparents
All four boys married girls of different nationalities. Joe's wife Madeline comes from Barbados in the West Indies. Tim's wife, Jennifer Hopkins, is English. They have three sons: Rob the eldest followed by twins, Stephen and James. Raymond is the only son who married a Goan. His wife Hyacinth De Souza hails from Tivim, Bardez. They have one daughter, Hazel. Stan, the youngest, is married to Canadian Kathleen MacKay. Stan has two children, Jessica and Thomas. All six de Mello grandchildren are faring well and full of promise.
Pascoal often refers to his family as a mini United Nations.
The large coloured group photograph of this family adorns one wall of the living room of "De Mello Villa" in de Mello vaddo.
What an attractive picture it makes! A portrait of solidarity nurtured by love! It speaks volumes of the broad international outlook of Pascoal and Esmeralda - true citizens of the world! With open arms they welcomed each one of these young women selected as partners by their sons!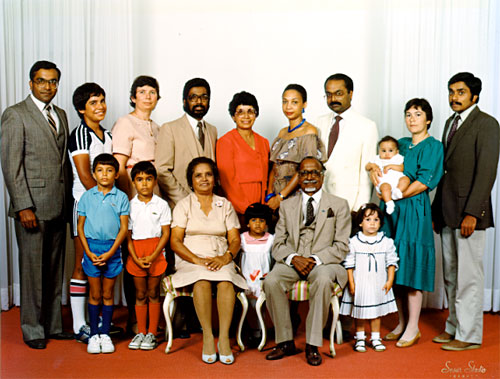 Three generations of the de Mello family
Golden Jubilee
On 21st August 1989 Pascoal and Esmeralda achieved a milestone in their lives. This good fortune is given to few married couples. They celebrated their Golden wedding! Fifty golden years spent together in a close companionship based on trust, bound together with bands of love! They chose to stay on in Anjuna to revive their memory of that wonderful day half a century ago when they started their beautiful commitment to face life, hand in hand, with God by their side.
That morning in the same old village church of St. Michael, Holy Mass in thanksgiving was celebrated by His Grace, Raul Gonsalves, Archbishop of Goa, His Lordship Ignatius Lobo, Bishop of Belgaum, and a number of priests. The jubilarians knelt down in gratitude to God for the many years He had granted them to share their joys and sorrows, and for the priceless gift of their children, grand-children and loved ones.
Then followed a reception in the da Gama Pinto hall adjoining the church. It was not possible for the entire family of the happy couple to attend, but two of their sons, Bijoo and Stan were present. There was a large gathering of relatives, friends and well-wishers. Dr. Willie D'Souza, Chief Minister of Goa, an Anjuncar and admirer of Pascoal, raised a toast to the jubilarians.
Another speech in their honour was made by Fr. Camilo da PieDade da Cruz, an old friend and parish-priest of St. Anthony's church, Vagator. It was loudly cheered by the many Africanders in the audience because the speaker spoke in Swahili.
To mark this golden event Pascoal presented the sum of Rs.20,000 to the Anjuna chapter of the Society of St. Vincent de Paul, a charitable organisation that cares for the poor and needy of the parish.
Social Service
Old habits die hard. Even while leading a retired life in Goa, Pascoal was keenly alert. He kept himself abreast with happenings the world over and took an active interest in local affairs relating to the church and the "panchayat", or representative council, of his own village of Anjuna. At one point he even stood for election but probably because of his advancing years did not win. His letters to the press have focused on several burning issues affecting development and progress. They touched on the growing need for concern regarding protection of the local environment, the insidious threat of drug addiction to the youth, and other such dangers consequent to the accelerated pace of tourism in Goa.
Pascoal was largely instrumental in the formation of the Lion's Club of Anjuna. On being selected as its Charter President he lost no time in organising a most timely Seminar on the Evils of Drug Abuse, on setting up Health Camps and in collecting donations towards the two major schools in the village as well as in obtaining the gift of a plot for the proposed community hall. His appointment as President of the All-Goa Repatriates' Union which boasts of a membership of 50,000 came as a most appropriate choice.
In 1980, on the feast of Our Lady of Help, Pascoal de Mello made a timely gift to the village church by his generous offer of strong metal gates for the compound. At another instance, to promote devotion to the saintly Fr. Agnelo deSouza, a worthy son of Anjuna, Pascoal made a large contribution towards his statue. This is now given due pride of place in the precincts of the church.
Esmeralda on her part leads a quiet but contented existence by the side of her life partner. In addition to her routine household duties, plus maintaining her beautiful house and lovingly tending her garden, she finds time to devote her energies to helping others. Always gentle and soft-spoken, in her own unassuming way she too is involved in advancing village welfare. Her activities are mainly directed to the local chapel. She helps in the choir, in decorating the chapel and personally prepares the little children to receive their First Holy Communion.
Twilight
Both Pascoal and Esmeralda enjoy the cozy comfort of being in the peaceful seclusion of their lovely village home, among friendly neighbours and familiar surroundings. They are still near enough to the sea and the lovely beaches for which Anjuna is famous. They have an intimate circle of close friends, and they socialise now and then. With the passage of time, many of their dear ones have died. But that has not made them downcast for they still have each other.
And their joy is in their boys. It is no longer easy for the couple to undertake such a long journey. What they now look forward to with the deepest pleasure are the visits of their children! Naturally these vacations seem much too fleeting, and few. Though physically separated from their sons by thousands of miles, they keep in close touch by frequent letters and phone calls.
But as though that was not enough, Pascoal with his far-sighted vision, ensured that the link would never be severed. He encouraged each one of his sons, stable and secure in the country of adoption, to retain a tie with his family roots. He coaxed them to embark on long-term investments. They fully trusted their father's judgment and already they are reaping dividends, particularly in the face of the escalating price of land in Goa today.
Ever astute, Pascoal himself looked around most avidly till he found good pieces of land in the vicinity, near the sea. Having effected these purchases he personally supervised the construction of separate, compact, self-contained little villas for each boy. Now each one of their children clearly has a definite stake in Anjuna, and hopefully some member of this extended joint-family will at some point of time in the future return, at least to holiday in this house by the sea and become, in the process, better acquainted with his or her family beginnings.
This venture has even now enabled Pascoal and Esmeralda - despite their advancing years - to welcome and entertain even the most casual friends of their sons who come and stay in Anjuna.
Living in quiet dignity, this charming, ageing couple are an inspiration to many. A sparkle comes to their eyes when, with legitimate pride, they dwell on the achievements of their dear boys!
The sentiments are reciprocated in full measure for the four sons hold their parents in the highest esteem, they appreciate the sacrifices made for them, the firm guidance they were given. And the unwavering love showered on them despite failings and disappointments for which they, the children, were sometimes responsible. They think of their father and mother with fondness and love.
And isn't that the most fitting reward to a life well spent? As Pascoal's eldest son says: "He fought the good fight, finished the race, and won!"
Joe's Cottages
Tim's House
Stan's House